This article contains information on how to calculate the operating margin of a wireless 802.11 network using a known distance between the two points.

I wrote this quite a while ago and although the throughput of wireless links has dramatically increased the basic theory still applies. Of course we now have 5GHz available, which is very useful for this application. You should be able to substitute 'f' for 5000MHz and the maths will still work.
You can now get a 150mbps PTP link over 15km using equipment that costs £160 for both ends – that's the entire cost of the system (minus a couple of poles and brackets). Crazy value for money when you think about it. The Ubiquiti NSM5 NanoStation is one such example. The Ubiquiti product range is pretty impressive to say the least. The NSM5 seen below is the big brother of the LOCOM5, which at £125 can still do 10km at the same rate and are around half the size.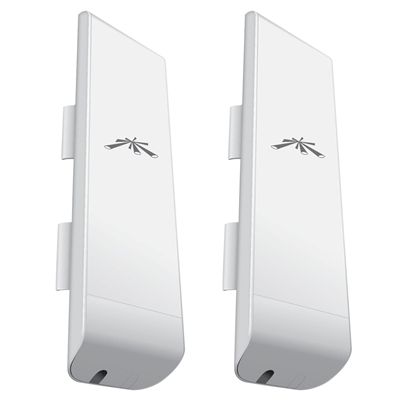 If you are considering an outdoor wireless link, give this article a read so you understand how high above objects you need to mount your shiny new kit!